Attention retailers! Are your stores ready to get phygital?
A successful phygital retail strategy blends the useful elements of the in-person customer experience into the digital sphere interchangeably.
Most of today's shoppers use their phones throughout the in-store experience, and research shows that they still crave elements of online shopping.
This evolution of shopper preferences puts retailers in the unique position of using smartphone capabilities to create a personalized customer experience. It also allows retailers to aggregate data better to make informed product decisions.
According to market research, 80% of shoppers use a mobile phone inside a physical store to either look up product reviews, compare prices, or find alternative store locations. Enter the phygital retail space.
For years, retailers have viewed in-store and online shopping as two sides of the same coin. So their marketing plans targeted consumers with two different approaches.
That thinking may sound well-reasoned, but it overlooks a more obvious point. Physical experiences often are siloed from online ones. A better strategy for today's retailers is to think of the two channels not as substitutes but as companions.
Where do retailers interested in shoppers experiencing a simultaneous in-store and online shopping experience start — AR, IoT, Web3? That can be a daunting yet critical decision, and the wrong solution might scuttle efforts to attract and maintain customers.
"While phygital retail can be construed as a new marketing buzzword, what it actually represents is a major shift in what consumers are demanding in their shopping experiences. This demand is reflected in retailers' online and in-store marketing strategies," Thomas Kasemir, chief product officer at product-to-consumer (P2C) platform firm Productsup, told the E-Commerce Times.
Phygital Strategies Q&A
We discussed this concept of blending in-store and online shopping elements in more detail with Kasemir. From his perspective, retailers are finding ways to combine the best in-store and online shopping experiences.
E-Commerce Times: What makes turning brick-and-mortar stores into phygital experiences more than just the latest buzzword?
Thomas Kasemir: This shift in retail strategy results from changing consumer shopping habits. Some 47% of consumers said they are more likely to make a purchase if they have access to a mobile app that provides more product information while shopping in-store. So a demand already exists. Retailers can no longer consider physical and online shopping as two different entities.
How costly is it for retailers to tap into this new approach?
Kasemir: Because consumers are inherently on their smartphones, retailers with varying budgets can easily reach in-store shoppers through marketing avenues like social media, email, and text messages. For retailers that have invested this money into their app, dialing into shoppers' smartphones is an obvious next step to ensuring personalized experiences across the board.
For instance, existing retail apps include capabilities like geolocation. Once customers enter a store, in-store notifications on deals appear, along with access to minimal warehouse information about product availability.
Is the in-store platform limited to just that level of store-to-customer exchanges?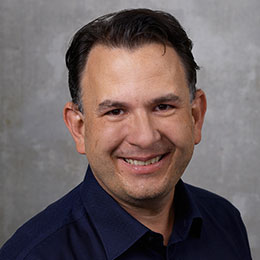 Kasemir: Shoppers use their phones for a few primary shopping purposes when they're in-store: product research, availability, and price comparison. So for retailers to elevate their online presence to brick-and-mortar shoppers, they need to offer accurate, quality product information.
Retailers can get creative on what they offer customers based on their capabilities. For example, some retailers, like Walmart's Mobile Scan & Go, are using technology to provide an online portal for more product information and quicker checkout times utilizing a QR code at the register.
Another concept retailers are using makes the in-store experience even more online-focused. They implement their social media channels to be a part of the experience. Of course, as artificial intelligence (AI), augmented reality (AR), and virtual reality (VR) become more mainstream in the retail industry, those technologies will enhance the phygital shopping experience.
Does this process entail a one-size-fits-all-stores methodology, or is it personalized in the way a CRM platform shapes the customer experience?
Kasemir: It is a combination of both standardization and personalization. From a one-size-fits-all-store perspective, some qualities will become standard for most retailers.
For example, while self-checkout machines have varying capabilities from store to store, customer behavior over time has dictated what is most efficient at all self-checkout registers. In the same vein, phygital shopping will have standard qualities, including geolocation, notifications on deals and discounts, and access to online portals.
Once the standard online applications are added, it is up to retailers to personalize the experience for each customer. Based on generational differences, how do shoppers want to receive product information — on the label, by QR codes, or in a mobile app?
How can retailers and marketers break out of the siloed aspects to effectively flip to both sides of the coin?
Kasemir: Retailers and marketers need first to understand the faults of each channel. These faults — such as the length of time a shopper spends in-store or long delivery times — indicate where each channel lacks. More importantly, it shows where the other channel can assist.
In traditional physical retail, the average shopping time was around 41 minutes. That includes arriving and walking around the store, speaking with a customer service representative, comparing prices of similar products, and checkout.
On the other hand, online shopping cuts that time down significantly due to the lack of needed transportation and distractions. Retailers and marketers need to understand the strengths and weaknesses of both channels and recognize that the solutions lie in their opposing channels.
As a starting point, what kind of in-store technology should retailers use to promote the concept and acquire the needed consumer data?
Kasemir: Retailers should begin their phygital retail strategy with an in-depth analysis of their mobile application. This sets the foundation for what technology is compatible. Once that has been examined, retailers should look into technology and software that helps the physical and online shopping experiences communicate with one another.
Then retailers should look into IoT digital tags that provide real-time pricing information and aggregate customer data. Geolocation is another technology worth the cost as it gives precise locations of products and sections of the store.
Once more advanced tools are available, retailers should implement technologies like VR, AR, and AI into the phygital experience.
What does a retail world look like when in-store and online experiences combine?
Kasemir: The future of retail is inevitably phygital. The retailers who adopt this strategy with a customer-first mentality, personalized experiences, and accurate product information will ultimately win out and acquire a loyal customer base that will evolve alongside the industry.
Will this new marketing plus retailing approach in-store be driven by AR, VR, IoT, Web3, or a combination?
Kasemir: Phygital strategies will rely on all four. We already see a greater demand for VR and AR applications in retail, and retailers have begun implementing this technology for consumers who are shopping online.
For example, IKEA offers AR technology to help better visualize furniture in a room. Technology like AR will enhance the phygital shopping experience by taking products virtually out of the box for size and color comparisons.
How rapidly do you see phygital retail widely adopted, or is it still wallowing in the experimental phase?
Kasemir: Phygital retail is a natural progression from what the retail industry has experienced over the last three years. The pandemic initiated a need for more robust online shopping capabilities and offerings like curbside pickup. When lockdowns subsided, in-store shopping came back at almost full speed.
We also saw major companies like Meta and TikTok introduce new, innovative ways for customers to shop. The combination of these variables has made phygital shopping inevitable.
This strategy will likely always feel experimental due to new technologies that are introduced and implemented. However, the companies who are adopting phygital retail strategies now are the ones we will see become the most successful five years from now.